History of Pirate Surgeons Menu: 1 2 3 4 5 6 7 8 9 10 11 12 Next>>
The History of Sea and Pirate Surgeons, Page 8
Two Unnamed Surgeons' Adventures in the Golden Age of Piracy
Captain Johnson gives us a few interesting accounts of unnamed surgeons among the pirates that are worth relating here.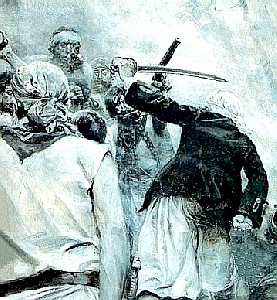 Artist: Howard Pyle (1894)
Fighting back the men with a sword The first involves Captain John Halsey's surgeon, who decided to help a mutinying crew stick to their intentions. Captain Halsey was sailing the Red Sea searching for Moorish ships. He had decided not to take any European ships, a rule with which his crew disagreed. So they locked him and his gunner up and tried to take a Dutch ship of 60 guns which they had come across while seeking Moors. The Dutch ship proved unwilling to be taken. According to Johnson, "The men perceiving they had caught a Tartar, made the best of their way to shake her off, and some were running down between decks, whom the surgeon pricked up again with his sword, though he was no way consenting to their designed piracy."1
The second unnamed surgeon was instrumental in saving the entire crew of Captain Nathaniel North's ship the Speedy Return from dying of thirst. North's crew got caught in a storm which caused them to throw most of their cargo overboard and stave (break open) their casks of water. When the storm was over, they met a fishing vessel and sent their canoe to the fishermen to learn where they might find water.
Rather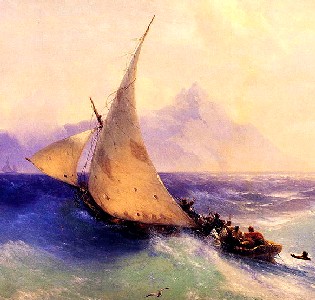 Artist: Ivan Aivazovsky (1872) - Rescue at Sea Detail than be taken by pirates, the fishermen jumped overboard and either swam ashore or drowned trying. One unlucky soul failed to do either, but spent an hour and a half escaping them by diving every time the pirate's canoe caught up with him.
Frustrated, Captain North "took the sprit [a long pole that goes from one corner of a sail to the opposite corner], and struck him as he rose, and broke his jaw. They brought him on board, sent him to the surgeon, and when they despaired of his being able to speak, he asked for a pipe of tobacco, which he smoked, and drank a dram; after which he seemed very hearty."2
They promised to free him if he would lead them to fresh water.  Agreeing, "he carried them to a convenient landing place, where he showed a well, full of dirt, out of which, after a great deal of trouble to come at it, they drew but three buckets of water, which sufficed those only who went on shore, to the number of thirty."3 Furious, the pirates threatened to kill the fisherman. He explained that "if they would have patience till the sun was set, they would have plenty, for the spring would rise, and flow all night; which they found to be the fact, and filled twenty tons of water, and returned on board".4
1Captain Charles Johnson, The History of the Pirates, p. 97; 2Ibid., p. 197; 3Ibid.; 4Ibid.
A Piratess, a Witch, a Witch Doctor and Sea-Surgeon Robert Innes
Another extraordinary story concerns a supercargo and his second (a surgeon by training) who fell under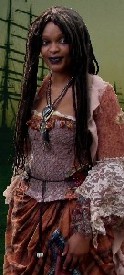 Photo: Mission
Tia Dalma as the Witch the spell of a bewitching piratess. Walter Kennedy's wife "gave the first Supercargo [Walter Kier] a Philtre [love potion] that made him dote on her almost to Distraction."1 Claiming to need money, she convinced the supercargo to 'borrow' a chest of a thousand pounds from the Scot's Company for whom he worked. The Supercargo "could deny her nothing she asked for, and promised that if he could bring his Second [surgeon Robert Innes] to consent, she should have it, but that Consent could be got on no Terms."2
So Mrs. Kennedy treated Innes to dinner and poisoned him with a potion given her by a local witch. Captain Alexander Hamilton (no, not that one) explains what happened. "The same Night it began to operate by Grippings [pain in the stomach or intestines] and Sweating, and he being bred a Surgeon, took some Medicines to correct the Grippings, which in some Measure the Medicine did, but he lost his Appetite, and his Excrements came from him as black as Ink."3 Since his surgical cures failed, the second supercargo surgeon sent for Malaysian doctor who "felt his Pulse, and immediately told [him] that he was poisoned, and that if he could not tell what Poison he had taken, his Cure was very desperate and uncertain."4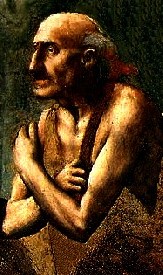 Artist: Cappella Brancacci
Hamilton then suggested Innes consult a witch doctor whom he called "old Beelzebub (for he was a Man, or walking Shadow, of a dismal Aspect, near an hundred Years old)".5 We'll let Hamilton continue this bizarre story from here.
"The Doctor called for a Tea Cup, and some fresh Limes, which were brought to him. He turned all out of the Room but my self and his Patient, and cut some Limes, and squeezed their Juice into the Tea-cup till it was full. He then mutter'd some unintelligible Words, keeping his right Hand moving over the Cup for the Space of three or four Minutes, and finding his Conjuration was not satisfactory, he shak'd his old Head, and lookt dejected. He then mutter'd some other Words with an higher Voice keeping his Hand in Motion as before, and in two Minutes the Juice in the Cup seemed to boil as if a Fire had been under it. Then he began to smile. I had the Curiosity to put my Finger into the Juice, but it retained its ordinary Coldness…

At Ten [PM], my Friend [the surgeon] sent a Servant according to Direction [of the Witch Doctor], and he and I sat discoursing about what we had observed in the Doctor's Actions towards effecting the Cure. About
Artist: Sullivan Carlyle
Mrs. Kennedy and the Monster Eleven the Spy came and told us that Mrs Kennedy had run stark mad, making an hideous Noise, and said, She had seen the Devil in the little House in the Garden, in a monstrous Shape and terrible Aspect. She soon after grew furiously mad, scratching and biting every Body she could come at, and so the Family was forced to threw on a Bed, and tie her down to it.

In that Fit she continued till about eight in the Morning, that the old Conjurer came to Town, who, upon the Advice given him, went directly to visit her. Upon Sight of him she became calm and sensible. He ordered every Body out of the Room, and askt her what Poison she had given to his Patient. She was very loth to tell, and proferred him 500 Dollars to forsake his Patient, and let the Poison operate; but he honestly refused, and assured her that the same Devil that she saw in the Garden, should be her continual Companion all her Days, and would often make her feel the Effects of his Power, if she did not instantly declare what the Poison was, and from whom she had it. She seeing no other Remedy, confest where she had the Poison, but could not tell what it was. The Doctor sent for the old Schoolmistress of Wickedness, and when she came, he threatned to torment her also, by his humble Servant the Devil, if she did not forthwith declare what Poison had been given, which she did, and he took away Mrs Kennedy's Companion the Devil, and the Patient was well enough in eight or ten Days, to follow his Affairs, but Mrs Kennedy lookt ever after disturb'd, as if continually frightned.6
1Alexander Hamilton, British sea-captain Alexander Hamilton's A new account of the East Indies, 17th-18th century, p. 383; 2Ibid., p. 384; 3Ibid.; 4Ibid.; 5Ibid.; 6Ibid., p. 384-6
History of Pirate Surgeons Menu: 1 2 3 4 5 6 7 8 9 10 11 12 Next>>