History of Pirate Surgeons Menu: 1 2 3 4 5 6 7 8 9 10 11 12 Next>>
The History of Sea and Pirate Surgeons, Page 9
The Misfortunes of Pirate Surgeons
Sea surgeons were always in a precarious position when their ship was captured by pirates. Since they didn't normally sign the articles, they didn't have a vote in the affairs of the moment and so were at the mercy of those pirates who could vote. When the combined crews of Oliver Levasseur and John Taylor were voting to decide whether they would accept the King's pardon for pirates, surgeon's mate Richard Moor, along with "Thomas Arrett an English surgeon and Mr Snear a Dutch surgeon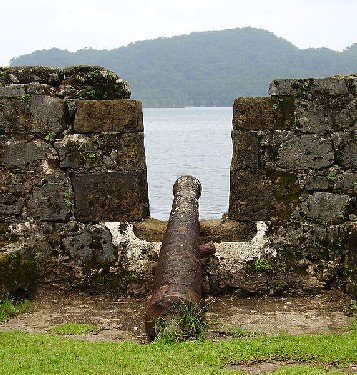 Photo: Gail Frederick - Port San Lorenzo, Portobello
...did not go on board the Guelderland by reason that the Surgeons had no Vote there."1 Taylor's pirates chose to leave the profession if a general pardon was available to pirates. (The King issued such pardons as a soft attempt to stop piracy.)
Most likely because they were less likely to be captured because of their station, all three surgeons were sent to Portobello, Panama to determine whether a pardon was available to pirates. Upon learning there was they requested pardon for Taylor's pirates. Although it was somewhat unfortunate that these men were not allowed to vote and had to undertake the potentially dangerous journey to find out about the pardon, this story has a relatively happy ending for Moor, in that he was released from the pirates service.2
Several surgeons received rough treatment at the hands of their captors. When surgeon John Crawford's ship, the merchant vessel Greyhound, was taken off Honduras in 1722 by George Lowther, he "was singled out for torture with lighted fuses between his fingers to reveal the whereabouts of some concealed gold dust"3. (It is not indicated whether he thereafter served as a surgeon aboard Lowther's ship Happy Delivery.)
William Parker was forced aboard pirate Thomas Anstis' ship where he says, "I had no Liberty there, but what was by Compulsion."4 Parker reports "[I] was very much abused in the time that I was on Board the Good Fortune, which was about ten or eleven Weeks. The Pirates beat me several times; they put burning Match betwixt my Fingers; and twice I was thrown Over-board"5. Pirate Bridstock Weaver asked Parker how he liked being on the ship. Parker replied that he didn't. "You say very right, Doctor, (says Weaver) for I am a Prisoner as well as you; but your Ship fell in our way, and we were oblig'd to speak with ye; and therefore as you have run your Hand into the Lyon's Mouth, your best way will be to draw it out again as easily as you can."6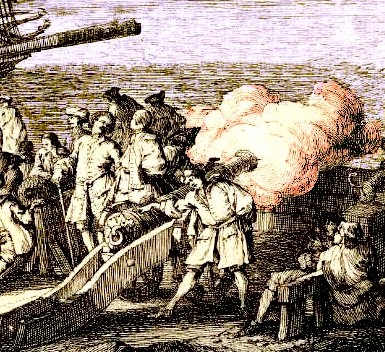 Photo: Jacques Rigaud Jacque
Firing Cannon, From Alere au Depart Avec Coup de Canon (1750)
The surgeon's life itself was always at risk. The crew tried to keep them safe by putting them in the hold, cable tier or orlop deck, which was at or below the waterline and less likely to be damaged by cannon fire. Yet there are still examples of pirate surgeons perishing at sea (and probably still more examples of those not mentioned in the golden age of piracy accounts dying without record.) When the forced men took back control of John Phillips ship Squirrel, they accidentally killed an unnamed, forced French surgeon when a swivel gun misfired.7
Howell Davis took several men including 'his first surgeon' into Principe, prior to an intended attack of the town, to see the governor. On inquiring at the governor's house, the pirates were told the governor was not at home, but would soon be there. "But the Surgeon observing, that many People had got together in the Street, with Arms in their hands, he said to his Captain, 'I am sure we shall see no Governor to day,' and advised him immediately to go away."8 Upon leaving the house, the surgeon and two others were shot and killed and Davis was wounded and eventually died before he could reach his ship.
Sometimes it was just unfortunate fate that the surgeon died. Samuel Bellamy's surgeon, James Ferguson, was drowned when Bellamy's ship the Whydah Galley sank off Cape Cod in 1717.9
1 "44. Richard Moor, from The Examination of Richard Moor, 31 October, 1724. HCA 1/55, ff. 94-97", Pirates in Their Own Words, Ed Fox, ed., 2014, p. 210; 2 "44. Richard Moor...", p. 210-1; 4 "61. Bridstock Weaver and William Ingram, The Proceedings on the King's Commission of Oyer and Terminer... (London, 1725)", Pirates in Their Own Words, Ed Fox, ed., 2014, p. 327; 5 "61. Bridstock Weaver...", p. 326-7; 6 "61. Bridstock Weaver...", p. 327; 7 George Francis Dow and John Henry Edmonds, The Pirates of the New England Coast 1630-1730, 1996, p. 313; 8 Captain William Snelgrave, A New Account of Some Parts of Guinea and the Slave Trade, 1734, p. 282-3; 9 "Dr. James Ferguson", Science Museum of Minnesota website, gathered 6/13/12
Helpful Pirate Surgeons?
Some of the pirate surgeons were enlisted to help the pirates in ways other than their traditional role. One example already mentioned in the previous section is Howell Davis's first surgeon. Along with Davis, "the Master and Doctor, dressed themselves like Gentlemen; his Design being, that the Men Should look like common Sailors, and they like Merchants."1 Unfortunately, as explained, this led to the surgeon's untimely demise. It is not entirely clear whether the surgeon did this freely or under duress.
In similar fashion, when a ship was captured by his pirates, "Capt. Greenway, the Gunner, Doctor and other officers went Immediately on board the Ship"2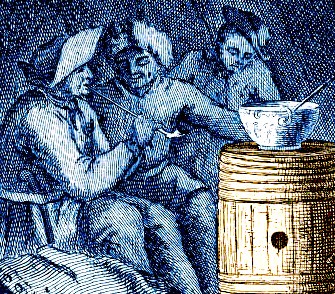 Artist: Joseph Nicholls - Pirates Drinking & Smoking (1736)
. Why the surgeon went is not clear, but it is very likely he went to remove any medicines or surgical instruments the pirates lacked. Pirates had few legitimate methods for procuring such things.
Another surgeon accustomed to the pirates' advantage was Captain James Allison's doctor. Allison's sloop had been anchored by Master Jeremiah Tay's ship Good Hope for several days in January of 1691 without Tay suspecting that they were pirates. Allison invited Tay, his supercargo and a passenger aboard his sloop
to Drinke a glasse of Punch with them, which he did, and when we were come on board the said Sloope they pretended theire Doctor (whom wee Left on board the Shipp talkeing with our men) had the keys where theire Sugar was, Soe they could not make the Punch, and forthwith severall of them Stept into the Boate and Rowdd on board our Shipp to fetch the keys. as Soone as they entred our Shipp one of them Ran to the Steereage Doore and another to the Round house and Secured all our Arms3
The pirates captured the ship, firing a gun to let the men on the sloop know that they should secure Tay and his shipmates. They then moved everything of use to them from their sloop onto Tay's ship and sailed away, leaving Tay with their old sloop. Whether the surgeon was a willing accomplice is not evident from Tay's deposition.
1 Captain Charles Johnson, A general history of the pirates, 2nd Edition, 1724, p. 181; 2 "39. Richard Appleton and others, from Minutes of the Provincial Council of Pennsylvania,, vol. III (Philidelphia, 1852) pp. 50-52", Pirates in Their Own Words, Ed Fox, ed., 2014, p. 188; 3 "53. Declaration of Jermiah Tay and Others, March, 1691",  Privateering and Piracy in the the Colonial Period - Illustrative Documents, John Franklin Jameson, ed., p. 139
Named Pirate Surgeons of Some Note
Although several of the surgeons serving on pirate ships were not named in the documents surviving from the time period, others were and we have some information about them. Let's look at what we know of some of them.
Pirate Surgeons Robert Hunter (Lowther) and Richard Moor (Cocklyn & Taylor)
Two named surgeons about which we have a few details are Robert Hunter and Richard Moor.
Hunter was twenty-six years old when he was taken by pirate Captain George Lowther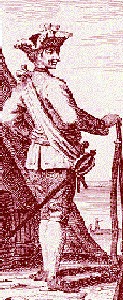 Artist: Joseph Nicholls
George Lowther (1736)
out of the Jeremiah & Anne near Bermuda and forced to serve the pirates on the Happy Delivery. Hunter was a Scottish surgeon from Kilmarnock who served Lowther for about a year.1 Nothing is recorded of his activities and surgical exploits while with the pirates. His escape from them came when Lowther and his crew were careening their ship in a cove of Blanquilla Island, north of Venezuela.2 Captain Walter Moore of the South Sea Company sloop Eagle caught Lowther by surprise causing everyone to flee inland. "Captain Moore got the 'Happy Delivery' off, secured her, and then went ashore with twenty-five men in search of Lowther and his crew, and after five days of beating about the bushes succeeded in taking sixteen of the pirates including the sloop's surgeon and seven others who surrendered themselves as forced men."3
Richard Moor was a surgeon's mate aboard the Comrade Galley which was taken in June of 1718 near Anamaboo (located in modern day Ghana, Africa)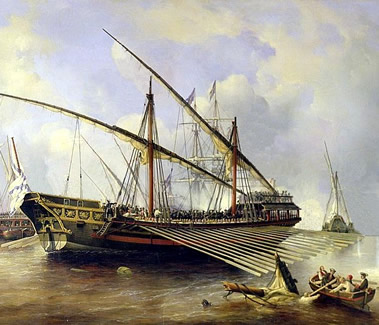 Artist: Ferdinand Victor Perrot
A Russian Galley, From The Battle of Grengam in 1720 (19th c.)
by Captains Jeremiah Cocklyn in the Speedwell and Oliver Levasseur in the Duke of Ormond.4 He served aboard the Speedwell until the pirates abandoned her in favor of the French prize Victory. Moor appears to have been put on board the Victory continuing under the command of Cocklyn until he died. Moor then served under Cocklyn's replacement, Captain Richard Taylor. His tenure with the pirates encompassed almost six years, making him one of the longest-serving pirate surgeons in this article.
What is known of Moor's time among the pirates comes from his own testimony. While this provides a great deal of information on the activities of the pirates, it unfortunately does not mention much of interest about Moor's duties as surgeon.
His testimony was able to be used against the pirates because he was acquitted. As Moor attests, "he the Inform[an]t being by force and Compultion a Surgeon on board of a pirate Ship called the Victory (whereof Richard Taylor was Comander) at a French Island called Don Maskareen [referring to one of the Mascarene Islands off Madagascar] in the East Indias"5. As explained previously, Moor's testimony tells us that there were two other surgeons among these crews - Thomas Arrett and Mr Snear - and the three of them appear to have obtained their release when pirate Captain John Taylor (who took over command from Cocklyn) and his crew chose to accept the King's pardon in Panama in 1723.
1 Eric J. Graham, Seawolves: Pirates & the Scots, 2005, p. 108; 2 Graham, p. 109; 3 George Francis Dow and John Henry Edmonds, The Pirates of the New England Coast 1630-1730, 1996, p. 140; 4 "44. Richard Moor, from The Examination of Richard Moor, 31 October, 1724. HCA 1/55, ff. 94-97", Pirates in Their Own Words, Ed Fox, ed., 2014, p. 207; 5 "44. Richard Moor...", p. 213
Pirate Surgeon Archibald Murray (Davis/Roberts/Kennedy)
Although he didn't serve the pirates quite as long as Richard Moor, Archibald Murray spent an estimable two years as surgeon under the command of three pirate captains. He was aboard Bahamas governor Woodes Rogers' privateer Buck when Howell Davis and the crew mutinied and turned pirate in the summer of 1718.1 The twenty one year old Murray "was rudely awakened one morning by a blow from the flat of a cutlass."2 Murray ran to the captain's cabin to report that "he suspected that the crew had mutified and they designed to have him in their power."3 Murray then picked up a pair of pistols lying on the captain's bed. The pistols weren't loaded, however, so the captain and his surgeon were forced to surrender.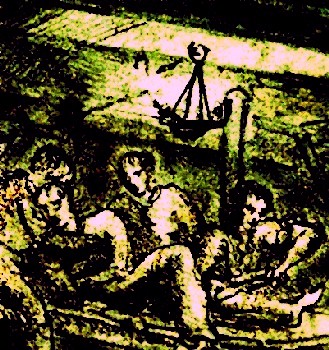 Surgeon Operating on a Leg Below Deck (1820)
Murray was kept on as surgeon when Bartholomew Roberts was elected captain upon Davis' death in June of 1719. He was aboard the Royal Rover when Captain Walter Kennedy decided to break ties with Roberts and sail to Ireland.
Unlike some of the other pirate surgeons discussed, some information is recorded regarding Murray's role as surgeon among the pirates. Richard Jones was captured by Howell Davis's gunner who "maliciously slashed across his leg with a cutlass before tying a rope round his middle and dragging him into the long-boat. The wound was so deep that it took six weeks of dressing in bandages by Dr. Murray to heal."3
Roger Hughes, in attempt to defend himself at trial noted "that he was still sick with 'Guinea distemper' and below decks under Dr. Murray's care, when Howell Davis led the pirates that took over the sloop at Hispaniola."4
And when forced sail maker William Green refused to hold a pistol during an attack, Davis forced one on him which "went off, shooting a hole through Dr. Murray's valuable medicine chest and breaking a number of bottles inside. For that he was brought to the mast and flogged to within an inch of his life."5
After the capture and plunder of the vessel Sea Nymph (a snow) off Barbados in late 1719, Kennedy decided to give it back to the rightful captain along with 16 of his forced crew members, which included Murray. The ship sailed to Barbados, arriving on Christmas day in 1719. Murray was a key witness in the trials against Kennedy's crew in Edinburgh, Scotland eleven months later.6
1 Eric J. Graham, Seawolves: Pirates & the Scots, 2005, p. 49; 2 Graham, p. 117; 3 Richard Sanders, If a Pirate I Must Be, 2013, not paginated; 4 Graham, p. 117; 6 Terry Breverton, Black Bart Roberts: The Greatest Pirate of Them All, 2004, p. 141
Pirate Surgeon Cole Wyeth (Low/Spriggs)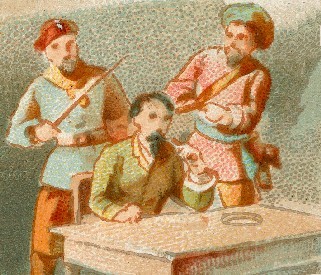 Forced to Eat Candles, Allen & Ginter Cigarette Card (c. 1888)
Cole Wyeth was surgeon on Captain Hunt's former man-of-war Delight, which was taken by pirate captain Edward Low off the coast of Africa in 1723.1 Low kept the Delight, making Francis Spriggs her captain. Spriggs quietly left Low one night in the Delight following a disagreement over the need to follow the articles regarding discipline. Thus Wyeth became Francis Spriggs surgeon.
Nothing is said of Wyeth's turn or skill as surgeon of Spriggs crew. He is noted as being a witness to an unusual method of torture administered by Spriggs' men, however. Wyeth (referred to only as the doctor) in the cabin when Nicholas Simmons, a forced man, was forced to to eat candles after refusing to sign the pirates articles.2
Wyeth is perhaps most notable from period accounts for being one of the men to intervene on behalf of captain Richard Hawkins, who was captured twice by Spriggs' pirates. Upon being captured for the second time, Hawkins, like Nicholas Simmons, was forced to eat candles for no other purpose than the pirates' amusement. Following Hawkins waxy meal, the pirates decided to 'sweat' Taylor. This is best described in Taylor's account: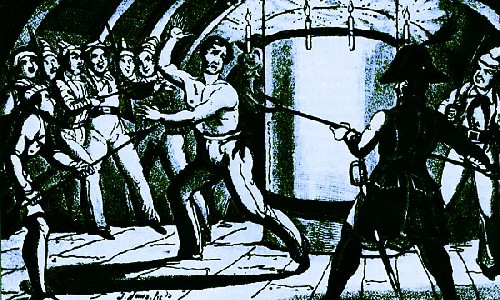 Spriggs' Crew Sweating a Prisoner (19th c.)
The Manner of a Sweat is thus: Between Decks they stick Candles round the Mizen-Mast, and about twenty five Men surround it with Points of Swords, Penknives, Compasses, Forks, etc. in each of their Hands: Culprit enters the Circle; the Violin plays a merry Jig; and he must run for about ten Minutes, while each Man runs his instrument into his Posteriors.3
Just as he was readying himself for this bit of entertainment, Taylor was spared the treatment thanks in part to the surgeon's intervention.
Mr Cole [Wyeth], the Surgeon, and a Prisoner on board [the Delight - James Stapleton], who had formerly been Gunner of her, these, with one Joseph Cooper, did intreat earnestly for me, alledging, That I never did any Man any ill; that I had done them no Injustice; and they had already ruin'd me; wherefore they begg'd I might be voted clear of any farther Punishment4
Based upon this, Taylor further commented "Mr Cole Wyeth is a great Mediator for kind Treatment; as are also Joseph Cooper and James Stapleton: To these Men was I indebted for being preserv'd from the Sweat."5
Wyeth escaped from Spriggs by helping to capture a Jamaican sloop taken by the pirates in August of 1725. This occurred when Spriggs and his men were busy careening their vessel near Roatán. The Boston Gazette reports that "while they [Sprigg's pirates] were at work upon their Ship the Doctor and Quartermaster confederated to leave his Crew, and in order thereto imparted their Design to the Master of the [recently taken] Jamaica sloop"6. When the pirates were distracted, the three men "overcame the Pyrates on board her [the Jamaican sloop], slipt the Cable [let the line run out without taking up the anchor] and made the best of their way. …The Doctor and Quarter-Master were afraid to go to Jamaica, but went a shore amongst the Musquero Islands."7
1 "59. Richard Hawkins' account of his capture by Francis Spriggs, from The British Journal, 8 August, 1724 and 22 August, 1724", Pirates in Their Own Words, Ed Fox, ed., 2014, p. 299 & Captain Charles Johnson, A general history of the pirates, 3rd Edition, 1724, p. 390; 2 "48. Nicholas Simmons, from The Memorandum of Nicholas Simmons", Pirates in Their Own Words, Ed Fox, ed., 2014, p. 237; 3 "59. Richard Hawkins' account...", p. 296; 4 "59. Richard Hawkins' account...", p. 297; 5 "59. Richard Hawkins' account...", p. 300-1; 6,7 The Boston Gazette, not dated, British Piracy in the Golden Age, Joel Baer, ed., 2007, Volume 1, p. 347
History of Pirate Surgeons Menu: 1 2 3 4 5 6 7 8 9 10 11 12 Next>>