Pirate Living Room: Entertainment Center
I spent months searching for much of the furniture used in this and other rooms. The entertainment center was one of those happy finds. I was looking for something that hinted at "pirate" that could also be closed up so the room wouldn't by marred by technology. Pirates didn't have much technology during the golden age, you know. So imagine my delight when I found this at the JC Penny outlet store. I knew it would be the perfect item, so I scoured the store in search of the best floor model they have (the ones I knew about then are now closed, but most of their furniture was floor models) The result is shown below.
| | |
| --- | --- |
| | |
When I purchased this, the white, bone like things on the corners were stained the same color as the entertainment center is. Since they were my favorite part of it, I decided to go for the gusto and paint them to look like old bones. These photos make the yellowing on the bottom look far more dramatic than the top; a difference that doesn't look quite that marked in real life. The "open" photo shows the doors being only partially opened. There are two sets of hinges on each door so that they can fold fully back, parallel to the side walls of the cabinet. Since I usually have it closed, I don't use that feature very often. (Note how old most of my equipment is. Except for the TV, none of it is less than 5 years old. What can I say? I just don't have a lot of use for it...)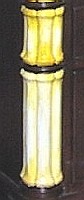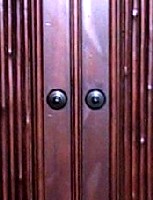 Here are some close-ups of the Entertainment Center cabinet. At left, you can really see just how much the corner posts looked like bones. What I wondered is, why did they design the furniture this way? There was a matching head- and footboard set and chests of drawers. Whatever the reason, it worked for me. (I seriously thought about the head/footboard. While cool-looking, Bones didn't go with my Eagle Themed bedroom.)
At right is a close-up of the door hardware. The knobs didn't quite fit my idea of a golden-era knob, but the coloring was spot on, so I left them. Notice the bamboo-look that the front of the cabinet has. That was another big selling-point for me.
You may be wondering why I keep going on and on about this Entertainment Cabinet. It's so seldom I find what appears to have been a perfect answer to my design ideas. Below you see more of the hardware in the upper drawer in the bottom part of the cabinet. Pretty snazzy, eh? You also get a nice shot of the bones. (Honestly, they don't look that different in real life for some reason. Must be a perception thing.)