Pork As Food During the Golden Age of Piracy, Page 4
Pork on Ships: Obtaining Local Pork
There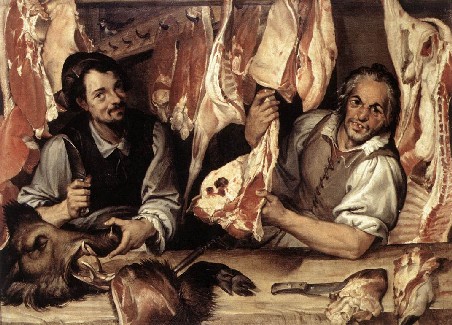 Artist: Bartolomeo Passarotti - The Butcher's Shop (1580s) are a wide variety of references to sailors and pirates obtaining hogs while in port for use shipboard. In fine pirating fashion, some of them were abducted. Reporting on events from Woodes Rogers' privateering voyage while in South America in 1709, Edward Cooke reveals that the small boats "went over to the Continent, carrying all the Prisoners, took the small Village there, and on Wednesday 17, return'd, bringing 7 Beeves, 14 Hogs, some Fowl, about 50 Bushels of Indian Wheat, and a few Goats."1
However the vast majority of the accounts suggest that hogs were usually obtained through legitimate means. Pork and other foodstuffs were sometimes given as presents when ships met or stopped at a location. More often, however, pork was simply purchased at local ports. A number of the period accounts detail the items which could be found for sale in various places around the globe. This was done in part so that people traveling to the part of the world could use these journals as a sort of guidebook, indicating what the traveler could expect to find in various locales. Several books even detail the local prices.
1 Edward Cooke, A Voyage to the South Sea and Round the World in the Years 1708 to 1711, p. 154
Pork as a Gift
Ship's captains would sometimes exchange gifts with each other, which often included food. Local officials would also sometimes give such thing to the ship's captain and crew.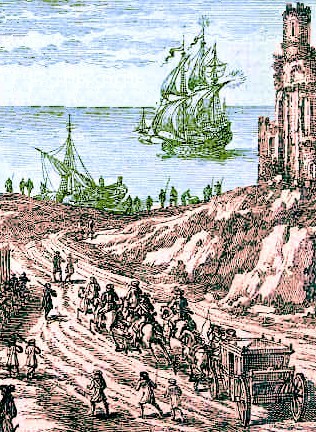 Artist: Alain Manesson Mallet
Meeting the Ship, From Description de l'Univers (1683) When William Cowley stopped at the Island of Guyana in the West Indies in 1685, a Spanish Captain was sent out to his ship by the governor. He stayed for a full day bringing with him"10 Hogs, [an] abundance of Potatoes, Plantans [plantains], Oranges and Papaes [papayas], and red Pepper, in token of their Friendship"1. Nor was this the end of the governor's largesse. Cowley later says that "he sent us moreover, the succeeding days, by one of his Captains and an Alserus, thirty Hogs, some Pomkins, green Trade, Potatoes and Rice, as a Present."2
Privateer William Dampier found similar success with local governors when he stopped in port. Upon leaving Guam in May, 1686, "the Governour sent his last Present, which was some Hogs, a Jar of pickled Mangoes, and Jar of excellent pickled Fish, and a Jar of fine Rusk, or Bread of fine Wheat-Flower, baked like Bisket, but not so hard."3 (Rusk is only twice-baked.)
While Dampier was in China in 1687, "The Officer brought aboard, as a Present from the Governour, a young Heifer, the fattest and kindliest Beef, that I did ever taste in any foreign Country; 'twas small, yet full grown; two large Hogs, four Goats, two Baskets of fine Flour, 20 great flat Cakes of fine well-tasted Bread, two great Jars of Arack (made of Rice as I judged) called by the Chinese, Sam Shu [a Chinese liquor distilled from rice]; and 55 Jars of Hoc Shu [probably a malt liquor], as they call it, and our Europeans from them."4
1 William Cowley, "Cowley's Voyage Round the Globe" from William Hacke's book A collection of original voyages, p. 16; 2 Crowly, p. 19; 3 William Dampier, Memoirs of a Buccaneer, Dampier's New Voyage Round the World -1697-, p. 210; 4 Dampier, p. 284

Pork for Purchase or Trade
More often, ships bartered or bought supplies while in a port that could supply them with fresh goods. Nearly every period account of a sea voyage bears this out. This began at home, as Edward Barlow's account shows; while his ship was "in the Downs [Kent coast, England] five or six days, we provided ourselves with fresh provisions, as fowls, hogs, and sheep, geese, and turkeys, and a couple of live bulls."1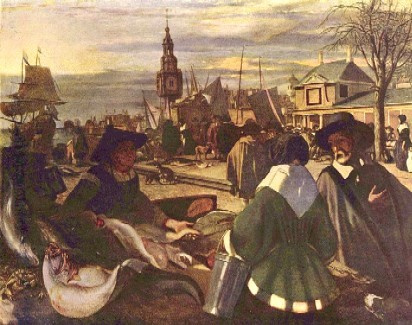 Artist: Emanuel de Witte - A Seaside Market, "Markt am Hafen" (1680) While stopping in near Charlestown, South Carolina, Captain Nathaniel Uring advised that the locals had "all sorts of European Fruits; their Peaches are the best I ever tasted; they have Horses, Black Cattle, Sheep and Hogs, and very good Poultry."2 Further south, Uring explained near the Cape Corse Castle in Africa, the natives supplied "Hogs, Sheep, Goats and Fowls, though they are both scarce and dear, which they cannot afford to eat themselves, but sell to the Europeans"3.
In Martinique, Père Labat learned that the Carib Indians bought "parrots, iguanas, chickens, pigs, pineapples, bananas and crabs to trade with us."4 Labat also reported that in Cadiz, Spain, "fishermen and other people ...always come alongside a ship when she arrives in port" to offer goods for sale, which included hogs."5
In Bombay, Barlow found "a manner of good provisions ...here is plenty of fish which is taken thereabout, and plenty of hens and hogs and other fowls. And fruits and coconuts are plenty, and oranges and sour limes, and plantains and bananas, and pine-apples, and suchlike fruits, and plenty of roots and 'yearbes' (Footnote 1: herbs)"6
Several authors save their most lavish praise for the hogs of China and the surrounding areas. Missionary friar Domingo Navarette gushes,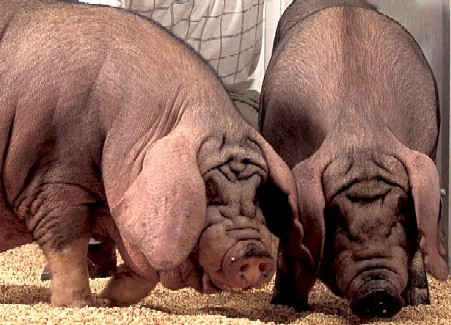 Photographer: Keith Weller
Chinese Meishan Pigs, Barlow's "much fat hogs"? (They come in black.)
China is one of the plentifullest Countries in the World for Provisions, they are all cheap, and as good as the best in Europe. There is great abundance of Beef, Pork all the Year about, Mutton, Goats-Flesh, hens, Capons, Geese, Pheasants, tame and wild Ducks, Pigeons, Turtle-Doves, small Birds, and all very good; there is no want of Horse-flesh: Dogs-Flesh is look'd upon as a dainty, and all over China fresh-water Fish enough in Rivers and Ponds: We saw all sorts of Fish eaten among us very plentifull and cheap in China. There are infinite quantities of Hen and Goose-Eggs, which latter the Chinese are fond of. In some Places there is Milk and little Cheeses, excellent Ham, choice Olives, Eels, Trouts, Oysters, and Salt-fish; a thousand sorts of Varieties for Collations; many sorts of Omelets, great variety of Greens, Beans, infinite Vetches [vicas - a plant, one of the varieties of which produces a type of bean]; abundance of excellent Fruit, Rice, Wheat, French-Wheat, and a thousand other odd sorts of Good. The Wine, tho not made of Grapes, is good in some Parts; in others better.7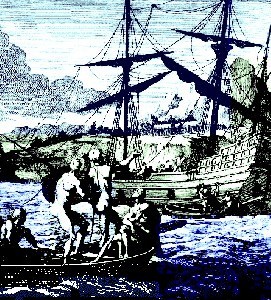 Natives Bringing Supplies to a Ship, From
Versameling der Gedenk-waardigste zee
en Land-reysen na Oost en West-Indien,
Vol. 15, p. 52 While in Macau, Barlow revealed that they had "little [few] good herbs, but much fat hogs, which is the greatest part of their flesh meat."8 William Dampier shows a distinct interest in the hogs of China, noting that the island of St. Johns [Shangchuan] contained "China-Hogs, Goats, Buffaloes, and some Bullocks. The Hogs of this Island are all black; they have but small Heads, very short thick Necks, great Bellies, commonly touching the Ground and short Legs. They eat but little Food, yet they are most of them very fat; probably because they Sleep much."9 He also reported finding an "abundance of Hogs" in the Bashee or Batane Islands.10
Pirates purchased pork at times as well. Finding himself in Porca, Captain Kidd obtained water and "bought a number of hogs of the natives to victual his company."11 Pirate Captain John Bowen's crew arranged for the natives of Cochin (Kochi, India) to bring them supplies one evening. "The next day a boat came off from the town with hogs, goats, wine, &c"12. So even such notorious thieves were not above paying for their food.
1 Edward Barlow, Barlow's Journal of his Life at Sea in King's Ships, East and West Indiamen & Other Merchantman From 1659 to 1703, p. 505; 2 Nathaniel Uring, A history of the voyages and travels of Capt. Nathaniel Uring, p. 229; 3 Uring, p. 106-7; 4 Pere Jean-Baptiste Labat, The Memoirs of Pére Labat 1693-1705, p. 78; 5 Labat, p. 261;6 Barlow, p. 186; 7 Domingo Navarrete, The Travels and Controversies of Friar Domingo Navarrete 1618-1686, p. 40; 8 Barlow, p. 518; 9 William Dampier, Memoirs of a Buccaneer, Dampier's New Voyage Round the World -1697-, p. 275; 10 Dampier, p. 288; 11 Captain Charles Johnson, The History of the Pirates, p. 63; 11 Johnson, p. 55
Pork and Other Food Prices
Several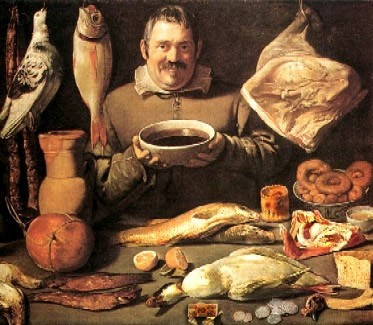 The Spanish Chef and Salesman...see the coins? (17th c.) accounts give prices for food including pork. Edward Barlow frequently mentioned the price of food in the places he visited during his time as a captain in his long career at sea. He noted that while Bengal in 1693, he could get "a good cow for six shillings, and a good hog for half a crown, and a good goose for one shilling, and hens for three halfpence and twopence, and good white rice for a farthing a pound, and green fruits and 'saliting' [salading] at Christmas and all provisions very cheap."1 While in Surat four years later, Barlow said that for "cows we paid twenty-seven shillings the piece, or twelve rupees; and hogs about four rupees the piece, they being dearer at Bombay than at many other places in India"2.
During an extended stay in Kinsale, Ireland in 1702, Barlow found that "good provisions were very cheap then in Ireland; buying good salt butter for three halfpence per pound, and fresh butter for twopence, and good beef for four shillings the hundred, and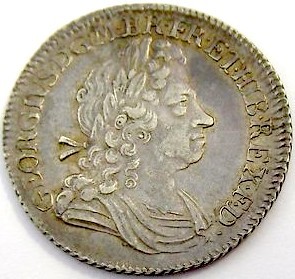 Shilling from 1720 Featuring George I good mutton for a penny the pound – I have seen a quarter of mutton of thirteen pounds weight sold for sixpence, pork for a penny the pound, six or seven eggs a penny, but bread is much cheaper than in England. Good fish very cheap, a fresh cod for twopence and threepence."3
Captain Nathaniel Uring found the inhabitants of Santiago in the Cape Verde Islands selling food "at easy Rates; we bought a large Hog for Two Shillings and Six-pence, and Goats at the same Rate; large Fowls for less than Six-pence a-piece; Oranges and Limes, Bannanoes and Plantans, cost us little or nothing."4
Bartering seems to have been a ready way to obtain fresh provisions. This makes sense given the wide variety of places a ship might go; many places would have their own currency which the sailor may or may not have available. Bartering bridged all financial gaps.
William Dampier recorded trading for food items during some of his journeys.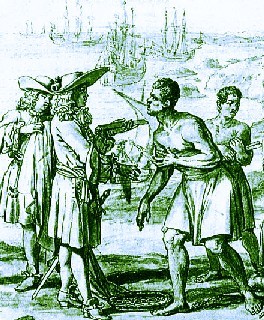 Artist: Rutger van Langervelt
Bartering at Gross-Friedrichsburg (1690) While at one of the Bashee/Batane Islands (which his crew named 'Orange'), Dampiers' shore crew
saw abundance of Hogs, some of which they bought, and returned aboard. After this the Natives brought aboard both Hogs and Goats to us in their own Boats; and every Day we should have fifteen or twenty Hogs and Goats in Boats aboard by our side. These we bought for a small matter; we could buy a good fat Goat for an old Iron Hoop, and a Hog of seventy or eighty Pound weight for two or three Pound of Iron. ...their Hogs we bought in large quantities, as we thought convenient; for we salted them. Their Hogs were very sweet; but I never saw so many meazled ones [hogs with worms]."5
In 1691, Dampier found that St. Helena (off the Southern African coast) traded in "Hogs, Bullocks, Cocks and Hens, Ducks, Geese, and Turkeys, of which they have great plenty, and [they] sell them at a lower rate to the Sailors, taking in exchange, Shirts, Drawers, or any light Cloaths; pieces of Callico, Silks or Muzlins"6.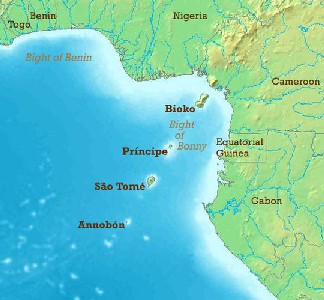 Map showing São Tomé and Principe Of Africa Woodes Rogers found a similar situation when they stopped in St. Antonio [São Tomé in the islands off the coast of western coast of Central Africa] on their way to the Caribbean. There the natives had "plenty of Cattel, Goats, Hogs, Fowls, Melons, Potatoes, Limes, ordinary Brandy, Tobacco, Indian Corn [which they traded for ship's goods].... The People at all these Islands rather chuse Clothing or Necessaries of any sort than Mony, in return for what they sell."7
In the middle of his pirate account for Howell Davis, Captain Johnson also takes a moment to relate the quality and barter/cash prices of food available in São Tomé and Principe when Davis's pirate crew stops there.
Their Beefs are small and lean, (two hundred. Weight or a little more,) but the Goats, Hogs and Fowls very good, their Sugar course and dirty, and Rum very ordinary; as these Refreshments lay most with People who are in want of other Necessaries, they come to us in Way of bartering, very cheap: A good Hog for an old Cutlash, a fat Fowl for a Span of Brasil Tobacco, (no other Sort being valued, &c.) But with Money you give eight Dollars per Head for Cattle; three Dollars for a Goat, six Dollars for a grown Hog, a Testune [testoon - silver shilling] and a Half for a Fowl; a Dollar per Gallon for Rum; two Dollars a Roove for Sugar, and half a Dollar for a Dozen of Paraquets: Here is Plenty likewise of Corn and Farine, of Limes, Citrons and Yamms.8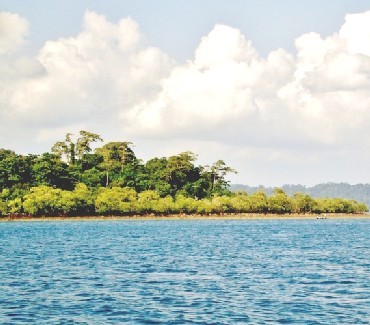 Photographer: Wiki Commons User Vaishnav066
On the Andaman and Nicobar Islands At the islands he called 'Ning' and 'Goury' (some of the Nicobar Islands southeast of India), Alexander Hamilton noted that the natives "come thronging on board in their Canoaes, and bring Hogs, Fowl, Cocks, Fish, fresh, salted and dried Yams, the best I ever tasted, Potatoes, Parots and Monkies, to barter for old Hatchets, Sword-blades, and thick Pieces of Iron-hoops, to make defensive Weapons against their common Disturbers and implacable Enemies the Andemaners, and Tobacco they are very greedy of, for a Leaf of Tobacco, if pretty large, they will give a Cock, for three Foot of an Iron Hoop, a large Hog, and for one Foot in Length, a Pig."9
1 Edward Barlow, Barlow's Journal of his Life at Sea in King's Ships, East and West Indiamen & Other Merchantman From 1659 to 1703, p. 437-8; 2 Barlow, p. 494; 3 Barlow, p. 550; 4 Nathaniel Uring, A history of the voyages and travels of Capt. Nathaniel Uring, p. 90-1;5 William Dampier, Memoirs of a Buccaneer, Dampier's New Voyage Round the World -1697-, p. 294; 6 Dampier, p. 364-5; 7 Woodes Rogers, A Cruising Voyage Round the World, p. 21; 8 Captain Charles Johnson, A general history of the pirates, 3rd Edition, p. 191; 9 Alexander Hamilton, British sea-captain Alexander Hamilton's A new account of the East Indies, 17th-18th century, p. 374