Christmas Holidays at Sea:
1
2
3
4
5
Next>>
Christmas Holidays at Sea in the Golden Age of Piracy, Page 1

Image: Josiah King
Father Christmas - who appears no where
else in this article - from The Examination and
Trial of Father Christmas (1686) "[1676] Having put all our goods on shore that we were to deliver [to Marseilles], we walked ashore being Christmas, to take our recreation and see all about the town, which is a place of very good buildings and a pretty large town or city, where all things are very plentiful, both for meat and drink. They have a very good wine of several sorts and very cheap, especially a red wine, which is a king of wine much like to claret, only a clearer red and better wine to drink." (Edward Barlow, Barlow's Journal of his Life at Sea in King's Ships, East and West Indiamen & Other Merchantman From 1659 to 1703, p. 271)
Christmas is a holiday of long tradition and ceremony, so much that it was recognized as such and often celebrated at sea, although not quite on the scale and commercial scope with which we celebrate it today.
It typically involved a day off when it could be had, combined with feasting in the best manner as could be assembled while the vessel was away from land. Let's look at how the sailors, buccaneers, privateers and pirates celebrated this holiday.
Christmas with the Ship's Clergy
Chaplain Henry Teonge mentions Christmas several times in his diary, which befits his role. Teonge entered the seaman's life at the rather surprising age of 55. He made two trips with the Royal Navy, the first aboard the Assistance from 1675-1676 and the second on the Bristol from 1678-1679.1 Both were 48 gun fourth rate naval ships. He vividly details his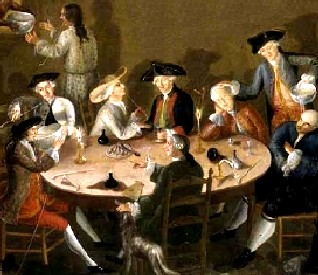 Image: John Greenwood
Sea Captains Carousing in Surinam (1750s) first Christmas at sea on December 25th 1675, beginning with the sacred aspects of the celebration and ending with the more profane.
Chrismas day wee keepe thus. At 4 in the morning our trumpeters all doe flatt their trumpetts, and begin at our Captain's cabin, and thence to all the officers' and gentlemen's cabins; playing a levite at each cabine doore, and bidding good morrow, wishing a merry Chrismas. After they goe to their station, viz. on the poope, and sound 3 levitts in honour of the morning.

At 10 wee goe to prayers and sermon; text, Zacc. ix. 9. Our Captaine had all his officers and gentlemen to dinner with him, where wee had excellent good fayre: a ribb of beife, plumb-puddings, minct pyes [mince pies], &c. and plenty of good wines of severall sorts; dranke healths to the King, to our wives and friends; and ended the day with much civill myrth.2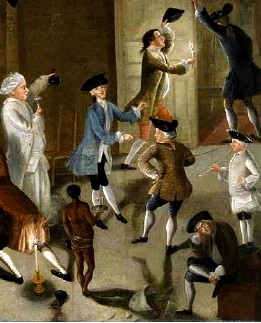 Artist: John Greenwood
Dancing Sea Captains Carousing in Surinam
(1750s) Teonge's second Christmas at sea in 1678 was not quite so fine, he noting that during the Christmas day prayers, "the wind roase of such a sudden, that I was forced (by the Captain's command) to conclude abruptly at the end of the Letany [litany]; and wee had no sermon."3 He opined that they "had not so greate a dinner as was intended, for the whole fleete being in this harbour, beife could not be gott"4. This hints the preeminence of meat, and particularly beef, in the sailor's diet. Still, he goes on to lovingly detail what was served:
"...an excellent rice pudding in a greate charger, a speciall peice of Martinmas English beife, and a neat's tounge, and good cabbige, a charger full of excellent fresh fish fryde, a douzen of wood-cocks in a pye, which cost I5d., a couple of good henns roasted, 3 sorts of cheese ; and last of all, a greate charger full of blew figgs, almonds, and raysings [raisins]; and wine and punch gallore, and a douzen of English pippens [apples]."5
Another fascinating account of holiday feasting during the Christmas season from Teonge takes place on the twelfth day of Christmas in 1676.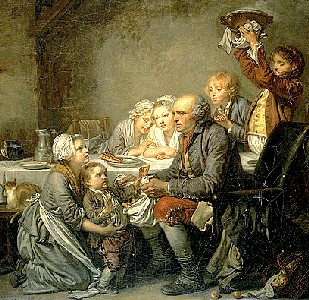 Image: Jean-Baptiste Grueze
Serving a King Cake from Le Gateau des Rois (1774)
...wee had much myrth on board, for wee had a greate kake made, in which was put a beane for the king, a pease [pea] for the queen, a cloave for the knave, a forked stick for the coockold, a ragg for the slutt. The kake was cutt into severall peices in the great cabin, and all putt into a napkin, out of which every on took his peice, as out of a lottery, then each peice is broaken to see what was in it, which caused much laughter, to see our leiuetenant prove the coockold, and more to see us tumble on over the other in the cabin, by reason of the ruff weather.6
Teonge is here describing a King Cake, which is used to celebrate the Epiphany of Jesus on January 6th. ('King' referring to the three wise men or three kings of biblical lore.) Traditionally, a bean was hidden in it, a custom borrowed from the Saturnalia of the Roman Empire. The person who got it in their piece of cake was referred to as the 'king of the feast.'7 This tradition was elaborated upon in Teonge's account, with the addition of several other items and associated characters, some of whom appear to be more appropriate to the sailors.
You might at this point protest that while the Navy might have clergymen on their ships, the pirates would not; believing, as Captain Charles Johnson stated in his General History of the Pirates that they were men "who fear neither God or Devil, as this [Captain John] Phillips us'd often blasphemously to express himself."8 However, much of the English pirate's ire with the clergy had more to do with their country having been enemies with Spain and a dislike of "papists." From the French, who were often Catholic, we have this extraordinary account of the pirate Daniel given by Pere Jean-Baptiste Labat in his account.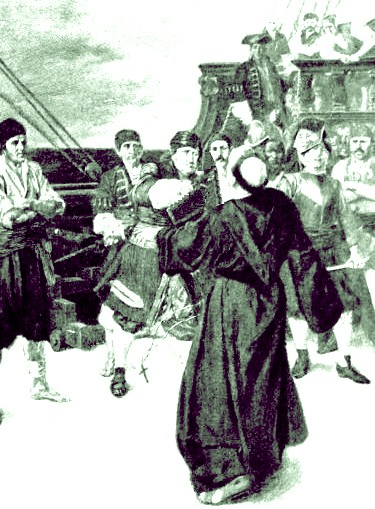 Image: J. N. Marchand
The Padre and the Pirates, from Sir Henry Morgan Buccaneer
by Cyrus Townsend Brady, p. 139 (1903)
...the pirates asked the curé to say Mass on their barque, and he was unable to refuse this request. They sent for the church ornaments, and put up and alter on the poop under and awning, and then chanted Mass lustily.

A salvo of eight cannons marked the commencement of the service, they fired a second salvo at the Sanctus, and third at the Elevation, a fourth at the Benediction, and lastly a fifth after the Exaudiat, while the prayer for the King was followed by the most hearty 'Vive le Roi'.

Only one incident slightly marred this ceremony. One of the pirates adopted an offensive attitude during the Elevation, and on being rebuked by the captain, he replied insolently with a horrible oath. [French pirate Captain] Daniel promptly drew his pistol and shot him through the head and swore by God that he would do the same to anyone else who showed disrespect to the 'Sainte Sacrifice'.9
So whether pirates embraced clergymen from their country or not is more complex that it might first appear. What is more unlikely about Teonge's account when describing the pirate's method of celebrating Christmas is that it primarily details what the officers would have done during the holiday.
The officers on a naval ship were typically well provided for and had better food and drink than the average seaman. Pirates usually had a much flatter organization where even the pirate captain had limited powers. According to one account, each man had the ability to "be Captain over him [the captain, where] every Man, as the Humour takes him, will use the Plate and China [allotted to the captain], intrude into his Apartment, swear at him, seize a Part of his Victuals and Drink, if they like it, without his offering to find Fault or contest it"10. So from that perspective, the Christmas celebrations of ordinary seaman may provide a more accurate window into how the pirates celebrated Christmas.
1 Henry Teonge, wikipedia.com, gathered 11/23/12; 2 Henry Teonge, The Diary of Henry Teonge, Chaplain on Board H.M.'s Ships Assistance, Bristol, and Royal Oak, 1675-1679, p. 127-8; 3 Teonge, p.269; 4 Teonge, p.269-70; 5 Teonge, p.270; 6 Teonge, p.130-1; 7 King cake, wikipedia, gathered 11/22/12; 8 Captain Charles Johnson, The General History of the Most Notorious Pirates, p. 401; 9 Pere Jean-Baptiste Labat, The Memoirs of Pére Labat 1693-1705, p. 221-2; 10 Johnson, p. 234
Christmas with Sailors
Many of the descriptions of the holiday from the golden age of piracy come from the earthy sailor Edward Barlow, whose account of the holiday led this page. While Barlow had glowing praise for Marseilles, he rarely misses an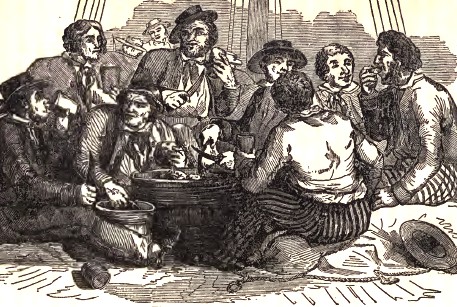 Artist: Robert W. Billings
The Sailor's Mess - Admittedly 100 Years Post-Period - from The American Cruiser's
Own Book by Capt. George Little, p. 45 (1849) opportunity to grumble when it comes to his food or situation shipboard.
Barlow was aboard the Yarmouth Frigate on Christmas in 1668, noting that "we had nothing to our Christmas dinner but a bit of old rusty salt beef, which had lain in pickle eighteen or twenty months, and a piece of it for three men, about three-quarters of a pound, which was picked out of all the rest, for the officers having the first choice always, nothing was left for the poor men but the surloin next to the horns, and they have Hobson's choice ['that or noe']"1
In a similar vein, he vents his ire about Christmas aboard the Augustain naval vessel in 1661, which bears repeating in full just to appreciate the magnificent variety and quality of his whinging:
We had but small Christmas cheer, not having Christmas pie or roast beef or plum 'podich' [pudding] and suchlike, I remembering that the poorest people in all England would have a bit of something that was good on such a day, and that many beggars would fare much better than we did; for all we had nothing but a little bit of Irish beef for four men, which had lain in pickle two or three years and was as rusty as the Devil, with a little stinking oil or butter, which was all colours of the rainbow, many men in England greasing their cartwheels with better; and also we had not two or three days to play in and go where we would, as the worst of servants had in England, but as soon as we had ate our large dinner, which was done at three or four mouthfuls, we must work all the day afterward, and maybe a great part of the night, which made me many times to put in consideration what a hard task I had taken upon me for my lifetime...2
Barlow could give the Grinch lessons! Of course, once you got him back on land, he appeared much more content with the fare. In 1693, while in Bengal, Barlow explained that "the place had plenty of good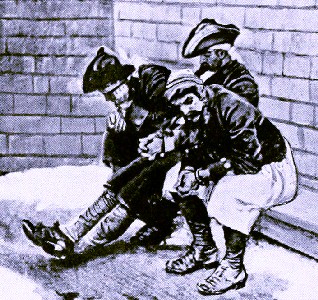 Image: Howard Pyle
The Pirate's Christmas (1893) provisions; a good cow for six shillings, and a good hog for half a crown, and a good goose for one shilling, and hens for three halfpence and twopence, and good white rice for a farthing a pound, and green fruits and 'saliting' [salading] at Christmas and all provisions very cheap."3
Naturally, the life of a sailor was usually uncertain; not all Christmases could be spent eating, drinking and relaxing. In addition to complaining about the fare at sea, Barlow details his situation while a prisoner of the Dutch during Christmas in 1673. He complains that "instead of good pies and roast meat, we were content with a little boiled rice and a piece of stinking beef, which they gave us three days in the week, and a quart of stinking water to drink for a day, the weather being exceeding hot."4 Life in an enemy country's prison didn't lend itself to a very merry holiday. (Although, it's actually not all that different from Barlow talking about his other Christmas dinners at sea.)
Then again, Barlow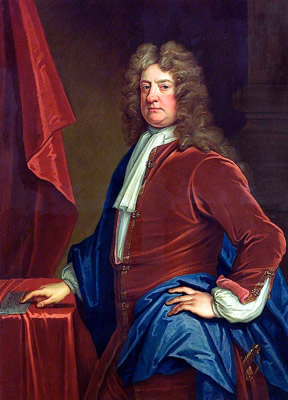 Artist: Thomas Gibson - Admiral Edward Russell (1715) may have had cause for his Christmas complaints given the fine way the officers celebrated the holiday according to Teonge's accounts in the previous section. The winner of the most extravagant naval Christmas celebration has to be Admiral Edward Russell. When he was ordered by the Navy to spend Christmas in Cadiz, Spain in 1694, Russell was not pleased. Since he was stranded there by the navy, he decided to celebrate in grand style and let the navy foot the bill. He held a party in the garden of the house of the governor of Cadiz, Don Francisco de Velasco y Tovar, inviting all the English and Dutch officers of the fleet who were similarly stranded to his fête.
Historian and mixologist David Wondrich (quoting period sources) explains, "at the center of the garden [was a] large, Delft-tiled fountain with the canopy rigged over it, filled with '12 hoggsheads of punch.' And, of course, the 'little boy that was in a boat swimming on the punch sea and deliver(ing) it to the Company."5 Dr. William Oliver recollections were cited in a 1711 almanac: "In this fountain, on Christmas-day, was poured six butts of water, half a hogshead of strong mountain Malaga wine, two hundred gallons of brandy, six hundredweight of sugar, twelve thousand lemons, and nutmegs and sugar in proportion."6 Apparently that much punch made people a bit punch, for Oliver went on to report, that at some point in the proceedings, "in went the mob, with their shoes and stockings and all on, and like to have turned the boat, with the boy, over, and so he might have been drowned in punch; but to prevent further danger they sucked it up, and left the punch-bowl behind."7 Now that's a Christmas celebration!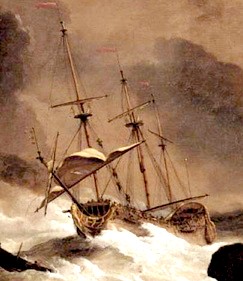 The Wreck of the Wager (1828) A more dire Christmas situation was the one of the crew of the Wager, which was a part of George Anson's Pacific expedition in 1740. The Wager was separated from Anson's fleet when rounding the Horn in May of 1741 and wrecked off the coast of Western Chile. Upon wrecking, several of the crew broke into the spirit room and got drunk, dressing up in the officer's clothing. Many of these men drowned when the ship bilged. About 140 men made their way to the island on which the Wager had struck (which would subsequently be named Wager Island).
While there, discipline broke down, fighting ensued and eventually the survivors split into two groups; 82 men took small boats with the goal of returning to England while 20 men remained on the island.5 It is here that we find the small group on Christmas "by some of our accounts... but our accounts had been so often interrupted by our distresses that there was no depending upon them."6 For their Christmas dinner, they "were so pinched with hunger, that we eat the shoes off our feet, which consisted of raw seal skin."7 While that was certainly a Christmas dinner to remember, they probably would have been just as happy not to do so. (One can't help but wonder what Barlow would have made of that dinner!)
1 Edward Barlow, Barlow's Journal of his Life at Sea in King's Ships, East and West Indiamen & Other Merchantman From 1659 to 1703, p. 160-1; 2 Barlow, p. 68; 3 Barlow, p. 437-8; 4 Barlow, p. 228; 5 David Wondrich, Punch, 2010, p. 153; 6 Francis Moore, Vox Stellarum Being an Almanack for the Year of Human Redemption, 1711. cited in Woodrich,p. 154; 7 Moore, p. 153; 8 HMS Wager (1739), wikipedia, gathered 11/25/12; 9 John Byron, The narrative of the Honourable John Byron, p. 78; 10 Byron, ibid.
---
Christmas Holidays at Sea:
1
2
3
4
5
Next>>