Finding and Obtaining Period Surgical Refs Page Menu: 1 2 3 Next>>
Finding and Obtaining 17th/18th Century Surgical References - Page 2
If you came from the previous page, you're probably wondering, "How do I get a free copy of the surgions mate?
There are actually three different editions of the surgions mate, something many people looking for this book do not realize. My reprint paper copy of this book is the 1617 edition. This edition happens to contain the fewest number of drawings and does not contain Woodall's wonderful addition of information on the tools required for the surgeon's chest which doesn't appear until the 1639 Edition (some of which is seen below).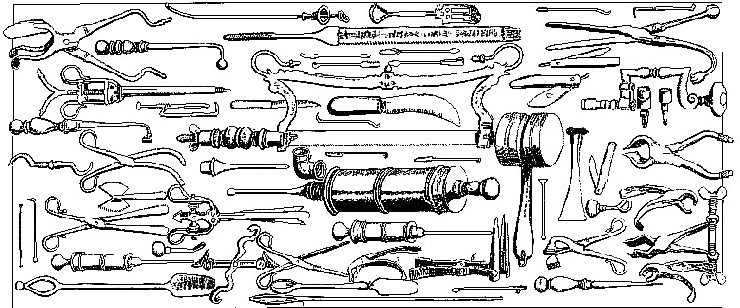 Woodall's chart of instruments found only in the second and third editions of the surgions mate. It does appear in the print verion, thanks to the editor.
This means that finding a copy of the book may not be everything you hope; you may actually prefer to find the other, later editions. As far as I know, neither the 1639 nor the 1655 editions were ever reprinted after their initial publishing in the seventeenth century. So what now?

Of Databases and the Magic of PDFs
Fortunately there are several databases out there which contain the entire texts of all the editions of period books. The three of which I am aware are Early English Books Online (EEBO), English Short Title Catalog (ESTC) and the Gale Eighteenth Century Collections Online (ECCO). If you clicked on any of those links, you found yourself stymied because you need a password to get into each database's website so you can actually view their PDFs. Alas, this is one of the more expensive passwords you will have probably come across, so you need another way in. Fortunately, there is one. Unfortunately, you have to work a bit to do it. (Nothing's truly free.)

My Beloved Michigan State Library
The most affordable way to procure period PDF references is to go is through a large university library. They usually have subscriptions to some or all of them. University libraries often have a guest researcher computer or public access computers which you can use. I recommend calling ahead to see if which of the above databases they have and if there's a way for you to get into their system. (Not all university librarians are helpful. I have found reference librarians to once again be the most valuable with these sorts of things.) Be sure to bring a memory stick with you to copy the resources you want. Note that I've found that most small private colleges and community colleges do
not
have access to such databases. So consider starting with the large universities near you and always call before going to make sure you can get what you want.
You may also be wondering which databases have which books. If you follow the link above for the English Short Title Catalog, you'll find you can search their database from the web. (You can't download anything, but you can see if they've got it.) I actually found another way, one that may or may not be of interest to you. Michigan State University has access to both the EEBO and the ESTC. Because their library sits on public land, the university provides public access to their information. They have linked the info on the databases to their collections. By using the Michigan eLibrary search engine, you can also search the EEBO and ESTC. For example, searching for John Woodall, turns up this page. Selecting the book you want will tell you which database it is listed through. (While you still can't see the PDF, you can at least see if the databases have what you want.)
That gives you the method of finding 17th/18th century resources essentially for free. So now that you have access to all these resources, let's finish up with a list of books I have found to be most useful for Sea Surgeon re-enactors on the next page.
Finding and Obtaining Period Surgical Refs Page Menu: 1 2 3 Next>>