Useful Page Links for Pirate Surgeons
If there is one thing I have found since I started putting together this web page, it is that there is a wealth of information out there on the web... if only you can find it!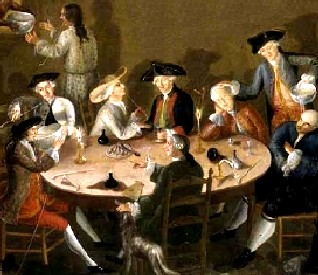 Image: John Greenwood
Sea Captains Carousing in Surinam (1750s) With that in mind, I have assembled a list of page links that those of you interested in researching pirate surgeons and period surgeon images may find of use. These are more or less in order of usefulness to me, although your mileage may vary.
Other Pirate Surgeon Info Pages
Pyracy Pub - Captain Twill Forum - Loaded with useful historical pirate and pirate surgeon data, although you may have to search a bit for it.
Pauline's Pirates and Privateers - A blog by Pauline on topics far and wide concerning piracy. Among her topics are blogs focusing on pirate surgeons and period medicine.
The Chirurgeon's Apprentice - A sort of blog, sort of listing of articles on Restoration-era surgery by a Post-Doctoral Research fellow at the Wellcome Institute.
Surgical Instrument Photo Reference Sites
If you really want to get a feel for period surgery, you must be familiar with the instruments. Below are a few sites with many excellent images of antique medical tools, all of which also happen to sell them.
Medical and Surgical Antiques (Alex Peck) - Alex Peck's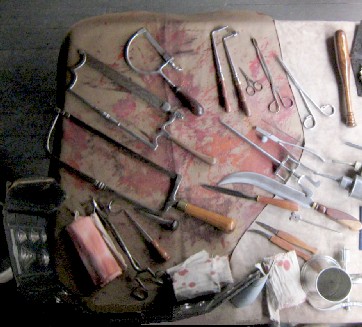 Photo: Mission
Some of Mission's Surgical Instruments website also contains some wonderful images of instruments he has for sale as well as other fascinating pages. These include his Archive of instruments he has sold (including a Hobbs bonesaw as seen in John Woodall's book), a Showcase of interesting surgical tools with commentary, an exhaustive list of Reference Books on the topic of surgical instruments and an absolutely invaluable section on Collecting Alerts which every purchaser of surgical instruments would do well to read in order to avoid being taken by unscrupulous or unknowledgable sellers. The downside of this site is that the sections are not searchable or well-organized. The format is also very old-fashioned. However, it is well worth your time to peruse this wonderful collection of information and photos of surgical instruments.
Nautilus - Antique Scientific Instruments and Old Oddities - True to its description, Nautilus contains some very odd things. However, it also contains wonderfully detailed images of surgical instruments sorted by operation type. The items listed on this site are also for sale, so they do change regularly.
Fleagrass Medical Antiques - This is an on-line antique site, so the images are always different, but it is one of the more comprehensive medical antique sites that I've seen. It is a bit more focused than eBay and since the listings are from antique shops, it does a much better job of separating the wheat from the chaff. The image quality is hit-and-miss as you'd expect on an auction site, but it is sort of fun to peruse. It categorizes items by date and allows you to sort them that way, which can also be most helpful.
On-Line Surgical and Related Documents
When I first started researching, finding period documents was a challenging prospect, usually involving collecting lists of what I wanted and then making occasional visits to a friendly university that provided public access to the various expensive database website. Many books can still only be found this way - you can see my process for doing that on the Finding and Obtaining 17th/18th Century Surgical Resources Page. However the number documents that can be found on-line increases daily. So I thought I'd include links to my favorite on-line sources, in order of my preference.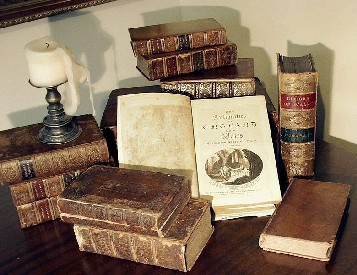 Image: Liam Quin
Archive.org - My hands down favorite free .PDF site. It has its own resources as well as being a meta-search engine which includes a lot of Google Books and Project Gutenberg in its searches. I am not sure how complete their index is of these other sites, however. It has a few more layers than Google Books, but it gives you more freedom to find the format you want and makes downloading for future reference much more straightforward in my opinion.
Google Books - One of the most familiar .PDF download sites to many people, it has an extensive library of manuscripts, including parts of some that are still in copyright. (The downside to this being that they usually don't include all the pages of copywritten material. Not that I blame them.) Many of their texts have internal links so that you can jump to chapters from the table of contents, which is very nice. My biggest complaint with Google books is that the search will find a book and then tell you the PDF is not available and you must purchase the book.
Project Gutenberg - While probably one of the oldest online document sites, it is also the hardest to navigate in my opinion. The search function tends to either produce little or far too much requiring much more sifting when used directly. I personally prefer to use Archive.org to find books on this site.
British Calendar of State Papers, Colonial - An on-line, searchable collection of British Colony State Papers sorted by date. Of particular interest are probably the America and West Indies collections. It is not the most user friendly site in the world; in fact, you'd better know what you want (or who wrote it) or you're in for a tough slog. Still, you'll not find such an interesting collection of potentially relevant info anywhere else.
Some Quick Links to Useful Books for Research
I thought I'd also throw a couple of books I find particularly helpful to my research as well as some that I am often asked about. Most of these were found using Archive.org, so that's where the link takes you.
the surgions mate by John Woodall (1617 edition)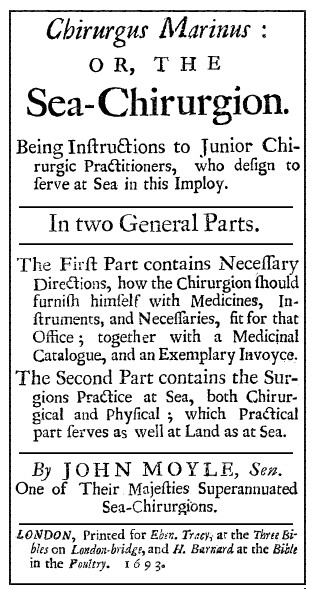 - This is the sea surgery book I am most asked about. Although it is given much praise in various pirate books, articles and websites, I find it is devilishly hard to read and somewhat incomplete in its treatment of the topic.
For those seeking a more thorough starter book on period surgery, I recommend Pierre Dionis' A course of chirurgical operations: demonstrated in the royal garden at Paris. Unfortunately as of this writing, this book not available in English for free. However, it can be picked up in print fairly inexpensively at Amazon. It is much more thorough, methodic and easier to read.
For those seeking sea surgery observations, I suggest getting John Moyle's book Chirurgus marinus: or, the sea-chirurgion in addition to Woodall (and even recommend it as a precursor to Woodall, given its brevity and ease of reading). Unfortunately, this is not available for free yet either, but a reprint can also be found for a reasonable price at Amazon.
A general history of the pyrates by Captain Charles Johnson (1724) - The book that made the English pirate the subject of fascination that he is still today. (Often misattributed to Daniel Defoe.)
A new voyage and description of the Isthmus of America (1699) by Lionel Wafer (3rd ed., 1732) - Jolly tales of buccaneer sea-surgeon Lionel Wafer's travels across Panama with a group of his fellows. An amusing insight into the life of a sea surgeon from the period.
Old Disease Names, from the California Genealogy and History Archives (rootsweb) - As the author explains, "Ever wonder what Camp Fever or Auge was?  Ever read an old story and one of the characters had Consumption or maybe Coryza? Well, I have the answers to those questions."
Quincy's Lexicon Medicum by Robert Hooper, M.D. (1817) - A nice, plain English, searcheable Dictionary of medical terms from near period at Google Books. No reference is perfect, but it's a good one to check in a pinch.
The English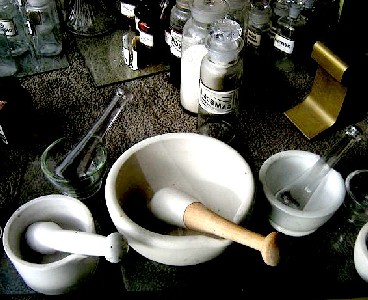 Physician by Nicholas Culpepper - The first plain English book on the topic of medicines. I find it a bit confusing to read straight through. To borrow a phrase, 'it reads like stereo instructions.' It is really more of a reference book, although it is an important period one.
Pharmacopoeias of London, Edinburgh, Dublin and Paris (1833)- A good, plain English Listing of Medicines, which I find particularly helpful for deciphering the complex Latin prescriptions found in many period surgical books.
Glossary of Medieval and Renaissance Culinary Terms - At first blush, this may not sound useful, but I've found many of the terms used in period surgical recipes on this page. In addition, author Cindy Renfrow has taken the time to list various spellings found in period books, making it doubly useful.
17th/18th Century Image Sites
I spend as much time trying to find images for the 'serious' articles as I do writing the actual articles themselves. Several sites have been invaluable to me in this effort, although you should be aware that not all of these pages are copyright free.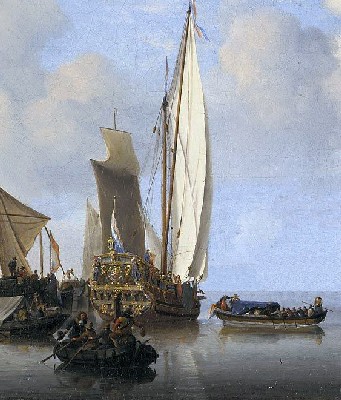 Artist: Willem Van de Elde the Younger
Schepen op de Rede (1658)Wikimedia Commons - A splendid site for all sorts of copyright free images. The search function is wonderful.
WikiGallery.org - A searchable collection of artwork, although the search function leaves a bit to be desired IMO.
John Carter Brown Library - Many of the images on this site appear to be from books and they allow you to blow them up to wonderful dimensions and offer copious amounts of info on where the image came from.
Wellcome Images - A searchable database of images from the Wellcome Collection in Great Britain.
Royal Museums of Greenwich - Another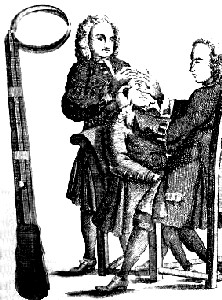 Eye Surgery and Speculum, taken from
Institutiones de Chirurgie by Lorenz Heister,
Plate17, p416 (1743) searchable collection of images, these from the National Maritime Museum in London.
Images from the History of Medicine - High quality searchable images from the U.S. National Library of medicine.
Europeana - A meta search engine for Europe's Cultural Collection (think museums and the like). Provides a collection of clickable thumbnails of images based on search terms.
BIU Sante Banque d'images - Image search at the Paris Interuniversity Library of Health. This website is in French, but if you're familiar with typical web searches, you can find your way around without much trouble.

History of the Sailing Warship in Maritime Art - A collection of images of sailing warships in art, just as the title says. It's not searchable, per se, although images are sorted by time period. It's more of a blog which features and discusses various maritime images.